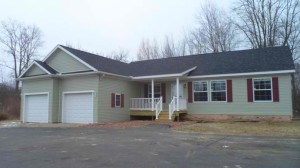 Buying a modular home can be an intimidating and expensive endeavor. Many people believe that finding a high quality, affordable home is out of their budget. Modular home construction allows you to design a custom home to your specifications while staying well within your budget. This is one reason why modular home construction is quickly becoming a popular choice among those individuals who want a quality home at a reasonable price.
There are a lot of modular homes available for sale these days. With difficult economic times and a downturn in the real estate market, home buyers are able to find nice homes at reasonable prices. While you may find a traditional built house that has some of the features you desire, chances are, you will not find a home that meets all of your specific requirements.
Modular homes allow home buyers to fully customize and design a home that meets the specific needs of their family and is very affordable. Imagine having a brand new home that is built to your exact standards and specifications. The best part is that your brand new modular home will more than likely cost substantially less than a comparable traditional built home that does not have the customization and features of your residence.
Unique Modular Home Building Process
One way that modular home manufacturers are able to keep their prices so affordable is the unique indoor building process used to create these homes. Because the modular home building process takes place in an environmentally controlled factory, there are no costly delays due to weather or vandalism. There is no need for rebuilds because of damaging winds or re-purchasing materials due to theft or vandalism. Also, materials can be ordered in bulk and used for multiple construction projects. All of this results in significant savings to the consumer.
No Delays During Modular Home Construction
Because the manufacturer employs a permanent workforce, there are no delays in construction due to subcontractors who don't show up or leave early. Having a solid workforce who is consistent in their work schedules translates into shorter construction times. This allows new homeowners to quit paying rent sooner and start investing in their new home sooner.
High Quality Materials for Modular Home Construction
Now that you understand how affordable modular homes are, we need to address their quality. Manufacturers use high-end materials to build these homes strong enough to withstand transportation. There are also multiple inspections by third parties that must be passed before the home is ready for occupancy. This type of quality control ensures that your modular home will remain sturdy and beautiful for many years to come.
Lots of Design Options for Modular Home
The modern modular homes of today offer a variety of  modular home design options to allow buyers to completely customize their house. Foundation options range from slabs to fully functional basements. Energy efficient appliances, insulation, and choices in roofing materials help homeowners save money each month on their utility bills. Garages and porches can also be added if desired. No matter what your style preferences or needs, you can create a custom home of your dreams.
Homebuyers everywhere are discovering the many benefits of building a custom modular home rather than buying a traditional stick built home. From affordability to multiple design options and faster build times, modular homes are becoming the preferred choice in new homes.
In case you still have question about modular homes, you may contact Legendary Homes Inc in Jackson, Michigan. A representative will be happy to assist you. Meanwhile you can check our modular home price sheets by signing up to our blog
Topic: Modular Home