Model Home Virtual Tour in 3D | Redman Homes Myrtle New Moon 6034 |NM 6033 Reveresed
Redman Homes New Moon Myrtle 6034 (NM 6033 Reversed)
Legendary Homes is proud to present this 3D tour of our model home.   Experience fully immersive virtual Spaces that feel so real, it's like being there.  Enjoy a tour of our model home as you sit back and relax in the comfort of your own home. Without taking a step out your front door you can investigate the feel and look of our wonderful model home.
Click here for full-screen view
Be sure to use you mouse to move around and view the 3D video below!
This floor plan is the Myrtle NM 6034 which is NM 6033 reversed in the brochure and has 1,800 sq ft.  It boasts a delightful open floor plan with a spacious kitchen and large closets. The bedrooms are wonderfully sized and the split floor plan gives privacy for each family member. The laundry room is what every adult would love with the storage closet and entry way in from the garage.
Homes built by Redman Homes are designed to meet your lifestyle and budget. You can choose an ultimate kitchen or a spa-like master bath. The features and options that you choose will help you feel like you designed the home yourself.
You choose the options according to your budget. Also, according to your tastes. The look of the cabinets, the flooring, and the countertops are all up to you.
Many Upgrades Available Through Legendary Homes
Other options done on this model home are the ceramic tile "Serenity Shower".  In the kitchen are the "High Definition" Counter Tops a bigger kitchen island and the Urban Putty Maple cabinets.  Some exterior features are a steeper roof of a  7/12 roof pitch, Shadow Ridge Siding, and Literal window trim to set it off.
This model home has been "stretched" from the standard width to 30 foot wide to give it even a more open feel.  This adds 200 sq ft from the standard plan.
Redman Homes offer many floor plans that would meet your family needs.
Call today to set up an appointment, we would love to meet with you.
For more information and price sheets of this model home please sign up at http://LegendaryHomesInc.com/ModularHomePrices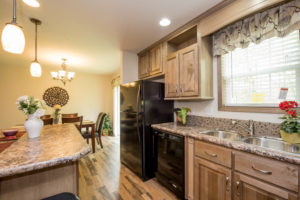 Other floor plans in New Moon Series:
Sunset NM 4811
Virginia NM 5633
Newport NM 5631
Cranberry NM 5629
Myrtle NM 6033
Malibu NM 6035
Oceanside NM 6031
Savannah NM 6039
Dakota NM 6815
Indian NM 6401
Appollo NM 7201
Red Cedar NM 7607
Carolina NM 7611
Fenton HS 60301
Macomb HS 66305
Roosevelt LS 56301
Fillmore LS 68301
Kenney LS 76301
3264-301
3268-301
3272-301
3276-301
Floor plans in the Genesis Series:
Charleston RM 4003
Dawson RM 1023
Milo RM 1025
Manteno RM 1009
Charlevoix RM 1033
Hampton RM 1031, 1031-1, 1031-2, 1031-3
Woodridge RM 1003, 1003-1, 1003-2, 1003-3, 1003-4, 1003-5
Delmont RM 4005
Bristow RM 2007
Fitzgerald RM 2001
Ashville RM2005
Floor plans in the Advantage Series:
2856-201
2860-205
2860-223
2860-231
2864-203
2864-217
2864-219
2864-221
2864-233
2868-203
2880-201
3264-209
Simmons
3260-209
3264-209
3268-209
3272-209
Stafford
2868-207
2872-203
2876-203
2880-203
For more information on floor plans and modular home prices please contact Legendary Homes Inc, 10197 S Meridian Rd (US 127), Clarklake, MI 49234.  Phone 517-206-2435
Check out pictures of the building process!
Redman Homes Myrtle NM 6034 which is NM 6033 reversed New Moon Series