A Look at the Difference of Poured Concrete and Precast Concrete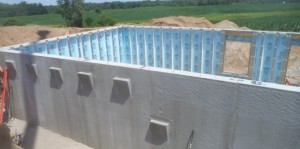 The precast concrete foundation is a big part of the modular home building process, and it is something that cannot be changed once installed.  The most popular foundation system in America is the poured concrete wall. In the past, poured concrete walls have also been used excessively. There is a new kid on the block: precast concrete. But what do we know about precast wall systems? How do they compare with traditional foundations? Are there specific advantages or disadvantages of using either product?
Let's look at the comparison of poured concrete and precast concrete:
Installation of precast concrete and poured concrete has a little difference. Precast concrete walls can be completed quickly – often in just a day or two and are not as susceptible to weather delays.
Precast walls are typically poured at a higher psi – around 5000.  Poured concrete walls are a lower 3500 psi. However, the poured wall is solid throughout rather than 24" on center, so it doesn't need the stiffer mix necessarily.
Pea gravel footing of precast option allows for superior drainage.  Rising water under the basement slab can flow to the footing tile through the crushed rock footing.  On a poured wall system, water has to get around the concrete footing to reach the tile, which builds pressure, or flow into a secondary tile inside the footing to get out.
Precast systems are relatively new in the residential field and homeowners, building officials, flatwork contractors, and builders alike are skeptical of them.  Builders may charge more to build on a precast system because of the learning curve.  There are a few minor extra steps that must be taken with the precast concrete system that will increase the labor costs from the builder.  Do your homework and choose a builder that has experience with the precast system installation, or you may pay for it.
Use of a precast system requires a little more coordination on the part of the general contractor, including scheduling rock delivery, flatwork, excavation and tile work.
Precast option reduces the chance for stress cracks in the wall system with controlled joints in the panels, but relies heavily on sealant to keep water out. Precast concrete options may come with a warranty.  Superior Walls carries a 15 year limited warranty. Poured walls usually do not have a guarantee.
Precast concrete walls are pre insulated and ready for drywall.  The concrete studs have holes to accommodate plumbing and electrical.
Precast concrete advocates boast that since the walls are poured square at the factory, the final product is guaranteed to be plumb, level, and square.  However, as with any product, installation can make it or break it.  We have built on both precast and poured walls numerous times, and there is no guarantee that either product is superior in this regard.
Precast concrete walls are steel reinforced.  Many times poured walls are not, especially in areas where the building code is not enforced.
Making the right call on your modular home foundation is a big decision.  Do your homework, go out and look at different foundations, talk to the people that live in those modular homes, talk to an experienced contractor, and think about your future carefully.
In case you still have question about modular homes, you may contact Legendary Homes Inc in Jackson, Michigan. A representative will be happy to assist you. Meanwhile you can check our modular home price sheets by signing up to our blog
Topic: Precast Concrete