Go for the Top- Notch Modular Home Dealer in Michigan
Select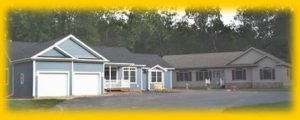 ing a modular home dealer is a process, but one of the most important steps in modular home construction.  A good modular home dealer can make the project much more pleasant, both during the project and for years to come.
Finding a modular home dealer that you feel you can trust and whose personality is a fit with yours is important to the overall experience.  Having a good experience during the construction process will help you enjoy living in your new home for years to come.  It will also mean that you have a modular home dealer that is more likely to respond to your needs in the future should any problems arise. Some things to consider when choosing a modular home dealer are:
Selection Process
If you don't have a modular home dealer, or a great recommendation for one, start your search by selecting a handful of modular home dealers with modular experience and making initial contact.  You can contact our modular home dealer. You may want to send an email introducing yourself and giving a brief description of what you are planning to build.  Get as much information about them and their company as you can.
Narrow the search for the Modular Home Dealer
Based your interactions with them, eliminate builders that you feel are just not right for you at all.  Some things to look for in a modular home dealer are: enthusiasm, confidence, communication, and their availability to you. Make phone calls to dealers you are interested in and ask questions. You should also ask for references and actually follow up on those.  Many homebuyers skip this step.  It is important that you check references.  Almost anyone can sound good through email or over the phone.
Compare Prices of Each Modular Home Dealer
Once you have narrowed your search to modular home dealers you feel you could work with, set up a meeting to discuss your project in more detail, and ask for preliminary estimates from two or three of them.  Take your time to compare the prices and what they include, not just the numbers.  If one bid is way below the others, there is usually a reason why.  The cheapest bid does not equal the best bid.  Comparing prices is only part of the picture.  Use this as an opportunity to evaluate how well the contractor has communicated the scope of work to be done.  Between the written proposal, a face-to-face meeting, and references, you should be able to make an informed decision.  Look at the whole picture and decide which modular home dealer is right for you and will make the process of building your new home a good experience.
In case you still have question about modular homes, you may contact Legendary Homes Inc in Jackson, Michigan. A representative will be happy to assist you. Meanwhile you can check our modular home price sheets by signing up to our blog
Topic: Modular Home Dealer