How to Build a Modular Home on Schedule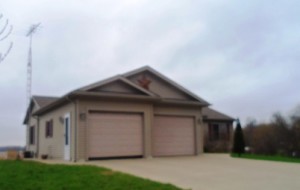 Building your modular home on schedule takes eats sweat like building it on budget. In fact, if you put a lot of effort into planning both, you are likely to find that keeping on schedule is considerably harder than staying on budget. That is because you can determine what you will get and how much you will spend before construction begins, and almost all of the required decisions for building a modular home are reasonably predictable and within your control. This is not true for scheduling, since there are so many other players involved who will not always bend to your will, including the surveyor, engineer, utility company, building inspector, dealer, manufacturer, and general contractor. You may even find that your own personal and family obligations become an obstacle to maintaining your schedule.
Benefits of Starting on Time
Most people building a new modular home are prepared for the modular home construction to take longer than planned. They have heard that subcontractors, inclement weather, utility companies, and inspection officials all contribute to delays. Few people, however, anticipate how long it takes to complete those tasks that must be done before they begin construction. Consequently, they budget too little time for these tasks and then try to compensate by skipping some tasks and rushing through others. When this strategy fails, they miss their desired move-in date and pay for it with stress with their family, conflict with their dealer and general contractor, and cost overruns with their budget.
It can take you as little as five weeks or as much as a year or more to complete all of the tasks that must be done before your modular home is delivered. Your responsibilities can take as little as one day, if you order a standard modular plan with no changes, select only standard features, agree all decisions are final, have cash to pay for everything, have a modular home general contractor lined up and ready to go, and have a building permit in hand or don't need one. If this is true for you, you will be an exception.
Financing and Permit Tasks for Modular Home Construction
Learning the financing and permit permit tasks help you in understanding the sequence of steps in modular home construction. You must complete from the time you order a modular home until it is built and ready for occupancy. It organizes the following dealer, financing, and permit tasks steps into fifteen phases and spells out your responsibilities for each phase in detail.
The General Contractor's Construction Schedule
Your general contractor is responsible for meeting two modular home construction schedules. The first, the pre-set schedule, includes those tasks he must complete to have your site and foundation ready for the delivery and set of your modular home. The second, the post-set schedule, involves those tasks he must do to complete the excavation on your property, button-up your home, and build your site-built structures.
In case you still have question about modular homes, you may contact Legendary Homes Inc in Jackson, Michigan. A representative will be happy to assist you. Meanwhile you can check our modular home price sheets by signing up to our blog
Topic: Modular Home