Modular Home: The Future of Residential Housing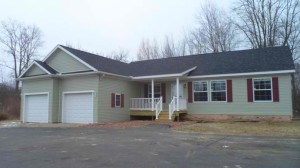 United States is the nation that initializes the factory fabrication, giving opportunity for the modular home construction.
Modular home is considered as the future home of every individual in the US at no cost. It is an alternative way to own a house for many nowadays. It is an abode that keeps its owner safe and protected. It is a place where people live comfortably. And there are a lot of other reasons why buying this type of dwelling are a wise investment. These reasons are focused on the construction process, quality, efficiency, and affordability of a house.
Modular Home Have Faster Construction Process
Unlike the process of how conventional houses are built, modular homes are realized faster. They built within six to eight weeks depending on the size and style. Larger modular dwellings take longer to build. Often when a buyer wishes to modify a standard floor plan into his liking, the construction process takes a longer time frame.
A modular home is constructed according to the schedule set by both its manufacturer and buyer. Sometimes there is a third party representative, usually from a financing firm and the local housing department, who sees to it that the construction schedule is followed accordingly.
A Modular Home is Built in High Quality
Modular homes are sought after for their quality. They are as good as the stick built houses. Others even considered them to have higher performance than the traditional dwellings.
The superior quality is harvested from the process in which it is erected. Manufacturers are compliant to the local and state building codes, which became the reason why there are high quality modular houses. They are utilizing materials that meet or even exceed the standards. They are also integrating advanced tools to design, construct, and complete the house.
Energy Efficiency is the Key for Modular Home Construction
Another benefit of choosing a modular home is having a self sustaining and energy efficient abode. The structural plans are equipped with insulated foundations that promote energy efficiency. Most builders create modular homes that regulate and control energy inside the house, giving its dwellers a good indoor air quality. Their windows, roofs and the walls have high insulation rate that normalizes the heat loss inside during seasons.
Modular Homes are Affordable
One of the substantial reasons why many are turning to modular is the inexpensive price of construction. The affordability of building a modular dwelling compels many to this type of housing. The price of one modular abode is calculated per square foot. A standard floor plan can cost $90 to $150. It can just flare up if major customizations are installed. Potential owner can have his home even on a budget. Those who earn minimum wages per month can start building their own modular home as well.
Modular Home Construction is Easier to Finance
Because of the positive track record of modular home construction, financing is not a problem. In Michigan, modular home financing is easier to acquire and achieved. Many bankers value how the modular home manufacturers work and produce high quality and energy efficient homes.
In case you still have question about modular homes and insulated precast foundation, you may contact Legendary Homes Inc in Jackson, Michigan. A representative will be happy to assist you. Meanwhile you can check our modular home price sheets by signing up to our blog
Topic: Modular Home