How to Maintain and Protect the Precast Concrete Foundation of Modular Homes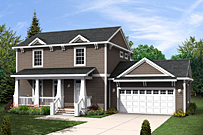 Among the many concerns of modular home owners is the maintenance of the precast concrete. Ways to prevent leak or structural damage must be known and done to ensure the durability of the foundation as well as the modular homes.
Precast concrete offers superior qualities to resist weathering and corrosion. The high density, prestressing and post tensioning make its air and watertight with fewer joints, thus offering excellent protection from climatic conditions.
The natural durability of precast concrete is enhanced by pre- stressing, resulting in a trouble-free wall that will give decades of service and provide unmatchable impact resistance and security. The steel formed interior surfaces provide clean, lightly-colored interior walls especially suitable for clean rooms or food processing facilities.
Maintenance of the Precast Concrete
Precast concrete provides trouble free service. Its reduced maintenance characteristics offers a smooth, dense, and clean surface that minimizes the collection of dirt and bacteria.
The beauty of precast concrete with its variety of colours and textures, together with its versatility and function, is an integral component of the building envelope. By following a simple program of inspection and maintenance precast concrete can guarantee the designed service life of a building.
To ensure the continued performance of the wall system and to maintain the warranty, visual inspections should be carried out at regular intervals. It is recommended that these inspections be carried out annually.
Attention should be paid to the connecting joints, surface appearance and connections. Any signs of deterioration should be documented at once with a copy of the written report sent to the manufacturer. Any applicable defects reported within the warranty period shall be remedied by the manufacturer. The owner is urged to maintain this annual inspection program past the warranty period in order to optimize the life of the structure.
In case you still have question about modular homes and insulated precast foundation, you may contact Legendary Homes Inc in Jackson, Michigan. A representative will be happy to assist you. Meanwhile you can check our modular home price sheets by signing up to our blog
Topic: Precast Concrete