Features of Modular Home in Michigan Incorporated with Universal Design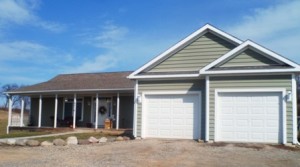 When a homeowner wants to place the Universal Design on his modular home, he can find contractors in Michigan. Most of the contractors install the modules that follow the features and accommodations of building codes. The modular home includes state-of-the-art materials, fixtures, appliances, and technology, much of which was contributed by vendors interested in being part of the project.
Entrance of the Modular Home
The entrances of the modular home have step-free thresholds, gradual level grades instead of ramps, and doors that are wide enough for mobility devices. Glass panels at the entrance are added to let all residents easily see visitors at the door. A wide porte-cochere is also installed to provide weather protection from car to door.
Kitchen of the Modular Home
A modular home, especially for older persons and handicapped, should have kitchen counters that have multiple heights to accommodate seated and standing use, and feature easy to reach electrical plugs for small appliances. The wall cabinets are built slightly deeper and mounted at 51″ from the floor, while pull-out storage is provided in many drawers and cabinets. A pull-out cart provides flexibility between under cabinet storage and knee clearance at the wet bar.
Bathrooms of the Universal Designed Modular Home
Spacious bathrooms include, decorative grab bars and comfort height toilets. The curb less roll-in shower includes a trench drain, seat and handheld shower head. Large mirrors over bathroom vanities accommodate both seated and standing users. The glass block mosaic installed above the tub provides light and privacy, while the large ledge around the tub facilitates transferring in and out.
Green Features of the Universal Designed Modular Home
Recycled and/or renewable resources were used in roofing, countertops, flooring and insulation. Energy efficient windows, appliances, lighting, heating and cooling systems were used throughout. The recycled aluminum shingle roof features solar panels as well as six foot overhangs that surround the home to provide shade and reduce solar heat gain in summer. Rain water runs of the roof into a water harvesting system that that is used for landscape irrigation. Low VOC emitting products including matte finish wall paint.
Lighting and Acoustics of the Universal Designed Modular Home
Large windows, skylights and glass block are used to provide natural light. LED lights will be installed in nearly 98% of the fixtures. LED light strips were installed over and under the kitchen cabinetry and are positioned to provide glare-free task lighting to both seated and standing cooks. Dimmer switches and motion detectors make it easy to move through the home after dark. Electrical outlets raised 25″ above the floor throughout the house. Upholstered furniture, a floor to ceiling padded headboard and acoustical gypsum drywall minimize sound in the master bedroom.
In case you still have question about modular homes, you may contact Legendary Homes Inc in Jackson, Michigan. A representative will be happy to assist you. Meanwhile you can check our modular home price sheets by signing up to our blog
Topic: Modular Home