Best Tips for a Beautiful Modular Home Composite Deck
A beautiful modular home composite deck starts with careful planning and design.  The best looking deck often reflects some architectural elements from the house and uses them in the deck.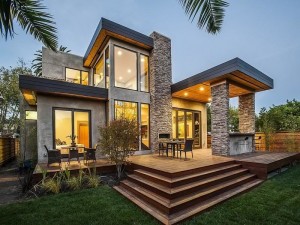 There are a lot of things to consider when it comes time to build or replace a modular home deck. If you're in the market to replace your existing deck or want to build a new one,  will want to know what products are available and what your contractor can do with them. You may choose the modular home composite deck. That is why it is a must to understand the following considerations when choosing the composite deck for your modular home.
Texture of Modular Home Composite Deck
Ensure that the materias have slip resistance especially in frost prone areas.
Color of Modular Home Composite Deck
Try to compliment your homes color.  Most composite deck materials fade 30% in the first year and then stabilize.  Some even change color so look at samples that have been weathered when possible.
Cost of Modular Home Composite Deck
Almost everyone is on a budget so pick the best material you can afford. A new deck can cost as much as a new car so take the time to weigh your options and hire a competent builder. The cost of composite decking varies from $2-$4 per linear foot of decking board.  I suggest that you not only talk with a builder's past client but also take the time to see one of their completed projects.
Warranty of Modular Home Composite Deck
Since there have been failures in the past research the company's products that you are considering and find out their track record and read the fine print on warranties.
Maintenance of Modular Home Composite Deck
Consult manufacturer's suggestions but most can be cleaned with mild soaps and water.
No decking is completely environmentally friendly or sustainable.  In general, many of the natural wood decking products available are from hardwoods or slow growing softwoods which make them less sustainable.  Pressure treated southern yellow pine is a faster growing, more sustainable wood product but it utilizes chemicals for rot and insect resistance.  If the composite decking industry can develop a product that is recyclable and will consistently perform it will climb to the top of the sustainability chart and my "A" list.
In case you still have question about modular homes, you may contact Legendary Homes Inc in Jackson, Michigan. A representative will be happy to assist you. Meanwhile you can check our modular home price sheets by signing up to our blog.
Topic: Modular Home Composite Deck