Are Custom Modular Home Floor Plans A Reality?
There are many manufacturers providing 100% custom designed modular home floor plans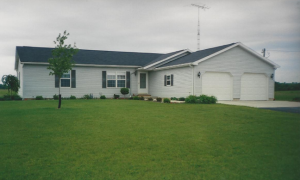 . Some of them don't even offer pre- designed floor plans anymore. If you look at their photo galleries of completed custom modular homes you will be surprised that the floor plans can be modified to your taste or needs.
Common Modular Home Floor Plans Customization Options
Even the smallest factory will allow for some modular home customization. The most common customization options are the external siding, windows and flooring. For the external siding, you will probably have options including vinyl siding, aluminum siding and maybe even a brick exterior. Of course, if you choose brick that will probably be added after the home has been delivered to the construction site. The window placement can normally be adjusted and you can also choose what types of windows are used. You can usually pick the type of flooring, whether it is hardwood or carpeting. Even if you go with these minimal customization options don't worry. Modular home providers usually have many different pre- designed homes for you to choose from. These are not cookie cutter mobile homes; these are attractive modular homes that are intended to blend in with stick-built homes.
The full customization capability has even started a new category in modular home construction, the modular mansions. Rich people like saving money and also being able to have their dream mansion built several months faster also helps convince them. Some modular home builders have started specializing in $1,000,000+ modular mansions. These custom mansions will use a hybrid of modular construction and stick-built construction to deliver the ultimate result in the fastest time.
100% Custom Designed Modular Homes
We fibbed a little when we said that 100% modular home customization is possible. When talking about customizing a modular home, there are some physical limitations. For example it is impossible for a modular home to have a 70 foot wide open space. The home does need to have load bearing walls that keep the roof above your head. These load bearing walls cannot be spaced that far apart. But other than extreme design requests everything can be accommodating by today's custom modular home providers.
The manufacturers in Michigan that are offering 100% custom modular homes will let you change just about anything. You can change the number of floors in the home. You can change the placement of the walls. If you want a two story home with a brick exterior and have all the bedroom window designs installed – you can.
In case you still have questions about modular homes, you may contact Legendary Homes Inc in Jackson, Michigan. A representative will be happy to assist you. Meanwhile, you can check our modular home price sheets by signing up to our blog.
 Topic: Modular Home Floor Plan