Cost and Benefits of Precast Concrete Foundation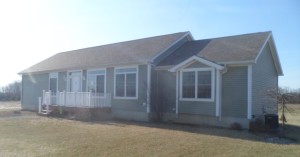 How much does a precast concrete foundation cost? What are the benefits of having it installed in a modular home? Precast concrete foundation walls simplify basement construction, save time and money, and result in warmer, drier modular home basements. The walls comprise high-strength concrete panels manufactured off site. Each panel contains solid concrete studs for load-bearing support and a built-in concrete footing. Some precast concrete panels include rigid insulation to keep the basement warmer and rebar and polypropylene fibers for strength. Walls can be customized by project to allow for door and window openings, steel-beam pockets and brick ledges. Manufacturers offer other convenience features such as built-in access for wiring and plumbing and wood or steel nailers for easy drywall installation. Panels range in size from 2 to 12 feet wide by 8 to 12 feet high to accommodate a variety of basement configurations.
The cost of precast concrete systems is competitive with the cost of other foundation walls. A precast concrete foundation is best-used to construct a full basement with consistent sill height; different wall heights slow the process, minimizing the cost benefit. Installers who aren't familiar with precast concrete panel assembly will need additional training. Some manufacturers allow only certified installers to deliver and erect their systems.
Other features and benefits of precast concrete foundation walls:
Time and Labor Savings
A typical precast concrete foundation can be erected in four to five hours, about a sixth of the time needed for a formed-concrete wall. The panels can be erected in cold temperatures, which mean weather delays aren't an issue. And there's no on-site curing time—the walls can be backfilled as soon as the slab and first-floor joists are in place.
Stronger, Lighter, Safer Modular Home Walls
Precast concrete panels are manufactured in temperature-controlled environments, which enable manufacturers to produce concrete mixes that harden to 5,000 psi. This is stronger than the 2,500-psi concrete in standard poured walls and stronger than concrete block, yet the precast panels are thinner and of lighter weight. Precast panel systems also are more resistant to fire, termites, dry rot, and tornado and hurricane damage than other foundation types.
Better Indoor Comfort
Because many precast concrete panels are formed with integral rigid insulation, little or no additional insulation is needed to achieve a warm basement. Precast panels also are low-maintenance and have better soundproofing characteristics than other foundation types.
In case you still have question about modular homes, you may contact Legendary Homes Inc in Jackson, Michigan. A representative will be happy to assist you. Meanwhile you can check our modular home price sheets by signing up to our blog
Topic: Precast Concrete