Myrtle Model Home Built by Redman Homes
Shown by Legendary Homes located south of Jackson Michigan on US127 just south of Jefferson Rd. This model home has many nice features.
The standard size of the Myrtle is 26'8″ x 60′ but this model home has been stretched to make it 30 foot wide which give it a more spacious feel. This 3 bedrooms 2 bath is a comfortable size of 1,800 sq ft. It has split bedrooms with the master bedroom on the opposite side of the other two bedrooms.
Legendary Homes is proud to present this 3D tour of our model home.   Experience fully immersive virtual Spaces that feel so real, it's like being there.  Enjoy a tour of our model home as you sit back and relax in the comfort of your own home. Without taking a step out your front door you can investigate the feel and look of our wonderful model home.
Be sure to use your mouse to move around and view the 3D video below!
Click here for a full-screen view

Direct link to the video is at Model Home on Youtube
Our Model home features an extravagant master bathroom with the serenity ceramic shower option. It has double sinks and a large counter top space with base cabinets. There's a Huge master bedroom closet that connects directly to the bathroom and also has a door going into the master bedroom.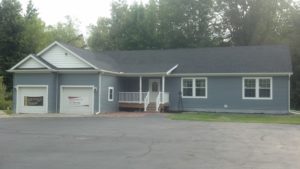 Redman Model Home Has Many Features
The Myrtle kitchen has a large spacious kitchen with plenty of cabinet space. It features the Urban putty hardwood maple cabinets which are also in the bathrooms. The large kitchen also has a big island with base cabinets for extra storage space for storing your pots and pans. It also includes electrical outlets for preparing items in crock pots and those sort of things. There's also an extra roll of cabinets and counter top space with overhead cabinets giving plenty of room for storage. The Myrtle kitchen also comes with a big walk-in pantry.
Another nice feature is the formal foyer separating the front door area from the living room and a decent size coat closet. There's a neat shelving at the edge of the hall to set some of your special nick-nacks on.
The 2nd bath or hall bath is also very big and includes a large linen closet. It has a 60″ tub/shower and we added a can light above it that is an available option.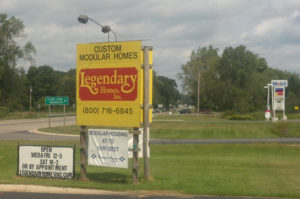 The utility room is nicely located on the front corner of this modular home to accommodate being able to have a garage on the front or on the end the house. The optional utility sink and overhead cabinets were also added to this model home.
This ranch home is the perfect size for most growing families. Building this home on a full basement basically, doubles the space and makes it great for having some extra storage area and maybe add some more bedrooms if needed.
We offer price sheets that show the complete construction package of a new home. We offer full service general contracting and have been using an insulated pre-cast foundation that has an insulation value of R12.5 more than exceeding Michigan energy code. We have great dependable and reliable subcontractors that stand behind their work. Many of whom we have used for over 20 years.
Our price sheets include the costs for a full 9-foot basement with an egress window and an escape well along with a standard size basement window. Plumbing and electrical hook-ups and permit fees are also shown on the costs. The price sheets show the cost of a well and a standard septic system.
Everything is itemized out so you can see exactly what's included in the costs to build a new home. We show prices for a few different floor plans so that you can get a good "ballpark" idea of the costs to build a new house. Something to keep in mind when looking over the prices is if you want something bigger then just know that you will need to figure a little more then the costs for the size of the price sheet you are looking at. If you plan on building smaller then it will be less costly. If you add more options/upgrades it will cost more if you take some off then it will cost less.
Once you have a floor plan picked out and know where you are going to build, please let Todd know and he can get prices figured up for your particular situation with the features you want.
If you would like a copy of the options forms just let us know and we can email that to you so you can get started with deciding what upgrades you will want, to make it easier in determining the total costs.
We are located on US127 south of Jackson MI
If you have not yet signed up for our price sheets and floor plans in pdf form then be sure to sign up at http://legendaryhomesinc.com
Our address is
Legendary Homes
10197 S Meridian Rd (US 127)
Clarklake MI 49234
(517)206-2435
Call to look at our Redman Homes Myrtle model home today!