Excavation and Grading the Building Lot for Modular Homes
The first step in building modular homes is preparing the lot which involves excavation and grading of the building lot. General contractors are ensuring that this part of the process is done accordingly and effectively to assure the continuity and quality of the modular home being built.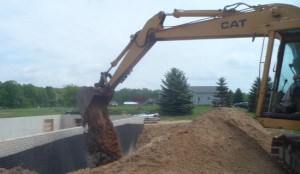 In the construction of modular homes, the cost of excavation and grading of lots vary considerably from one lot to another. The extent of excavation and grading will greatly depend on whether the lot has ledge, rocks, big boulders, hardpan, clay and other difficult soil condition. Extensive deposits of ledge and rock require blasting, which is expensive; while huge boulders and hardpan may require more powerful and expensive excavation equipment. Clay is very difficult to work with, particularly when wet, that is why modular home contractors do not recommended this kind of soil.
Additional fill is almost always required when the result of excavation does not fit for the backfill and/or the appropriate level for grading is not met. This can cause additional cost to the preparation of the building lot for modular homes.
Excavation of the Building Lot for Modular Homes
Excavation work is also required for connecting modular homes to underground municipal water and sewer lines or a well and septic system. Trenches are required if you are running underground utility lines for electrical, telephone, or cable services.
Creating the appropriate grades on a lot is critical to minimizing water problems, making the site usable, and making the driveway accessible. Although you will want to direct water away from your home, you will need to do it without causing problems for the neighbors. You will also want to take into account how water from neighboring properties flows onto your property.
Grading of the Building Lot for Modular Homes
Grading of lot is the process where shaping and sloping the land to direct surface drainage away from buildings is done. Lot grading plans have been part of the approval process for residential properties ever since. Plans for grading the lot specify design elevations, surface gradients, lot types, swale locations, and other drainage related information required for lot grading. Moreover it also establishes the grading relationship between adjacent properties and its approval is an effective basis for the control of surface drainage.
Additional grading of lot for modular homes may be needed to make the site accessible for the modular transporters and the crane on delivery and set day. If the lot is made up of many rough and uneven hills, the task can be more difficult for the excavator and thus more expensive. If additional fill is required to complete the grading, your costs will also increase.
In case you still have question about modular homes, you may contact Legendary Homes Inc in Jackson, Michigan. A representative will be happy to assist you. Meanwhile you can check our modular home price sheets by signing up to our blog
Topic: Modular Homes
---
Clearing the Building Lot for Modular Homes
In the construction of modular homes, buying a vacant lot is an important and complex decision to make. There are plenty of reasons to buy a parcel of land. If you buy an existing modular home, it's probably so you can live in it; but with land, you could plan the design or style of your own
modular home
. However a building lot also introduces a host of issues you don't normally face when 
buying a house
. One of them is buying a lot that requires shredding of trees and other plants before the construction commences.
Some building lots for modular homes are densely populated with trees and shrubs while others are completely clear and plain. Cutting down the trees, removing the shrubs and logs, and digging up and burying or disposing them are important prior to the start of the construction process. Though lumber companies pay for the cutting and clearing of trees and other unnecessary products in the land,  most potential modular home owners or lot buyers do not have enough resources in paying for their removal.
The importance of clearing the lot in preparation for the building of the modular homes leads to the easy and continuous work of the construction team. Before the general contractor and his team start with the assembly of the modules, they make sure that the lot is plain and clear. No trees and other objects are present that can obstruct the setting up of the modular home. Since then, the modular homes construction team has been practicing different of methods in clearing lot.
Different Methods of Clearing the Lot for Modular Homes
Clearing of the building lot involves the removal of trees and shrubs on a piece of land. Depending on the size, location, and purpose of the land, the excavation and grading may require professional land clearing equipment. Clearing of the building lot for modular homes involves different methods that first time home owners can use;
Push Over Method
The pushover method in land clearing often involves the use of major construction equipment. The trees are pushed over and hauled off the land with the roots intact. Once the trees are moved to a central location, they are often processed for sale or ground for use as a mulching material. This method is usually expensive yet beneficial for the environment.
Cut and Grind Method
The building lot for modular homes sometimes use cut and grind method clearing. The method begins with cutting down the trees on the piece of land. Then, these trees are often moved to a processing location, but the stumps are left in the ground. These stumps can be ground into mulching material or pulled out of the grown using a large piece of construction machinery.
Controlled Burn Method
Though controlled, this method of clearing the building lot for modular homes is most dangerous. Burning involves starting a controlled fire and maintaining that fire until all trees and brush are burned to the ground. After the fires are extinguished, the land can be cleared using a bull dozer or other piece of construction equipment.
In case you still have question about modular homes, you may contact Legendary Homes Inc in Jackson, Michigan. A representative will be happy to assist you. Meanwhile you can check our modular home price sheets by signing up to our blog
Topic: Modular Homes
---
Factors Affecting the Building Lot of a Modular Home
A building lot for a
modular home
may seem easy to find but you need to consider a number of things first. You will likely consider its location, purchase price, and condition. These factors provide a great impact to the stability, durability and quality of your home.
Location of the Lot for Modular Home
The choice of location for the building lot is likely to be determined by a variety of considerations. The type of neighborhood, tax rate, length of commute to work, and quality of the school system are likely to be important. Proximity to family and friends, the distance to shopping centers, and access to recreational activities might also matter. Privacy, traffic noise, and what you can do with the lot may be paramount concerns.
The location of a building lot is seldom in itself of special consequence when considering a modular home. However, the route to the site, as well as its size and shape, can occasionally pose delivery difficulties. Also, building lots sometimes come with covenants, deed restrictions, or easements that can restrict what you can and cannot build. For those on a budget, the price of the building lot will affect how much money is left over to build a house.
Cost of of the Lot for Modular Home
Land costs in many areas have risen appreciably in recent years. In some areas, the rise has been astronomical. Buying a piece of property is one thing, but turning it into a usable building lot can be a different matter entirely. There are many factors in developing land that can add thousands of dollars to the cost of building a house. If you are unprepared for these costs, they can make a complete mess of your budget.
Condition of the Lot for Modular Home
A wise modular home buyer is keen in examining the condition of the land where his home will be built. He ensures that it is not in poor condition where soil settles. He must see to it that the lot is not clay soil and no underground work was done in his lot to prevent untoward circumstances. Modular homes must be situated in a land where sinkholes are not going to appear.
In addition, it is better to determine the size of the lot so you can discuss the floor plan of your modular home with your general contractor effectively.
In case you still have question about modular homes, you may contact Legendary Homes Inc in Jackson, Michigan. A representative will be happy to assist you. Meanwhile you can check our modular home price sheets by signing up to our blog
Topic: Modular Home
---
Modular Homes and The Quest in Finding the Best Building Lot
Shopping for the building lot for modular homes is always a fun quest especially for first time homeowners. Considering the many things such as the location, land cost, and its dimension adds to the tedious job. Nonetheless it will always be worthwhile once you pick an excellent piece of lot.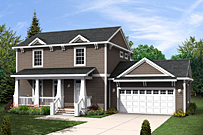 Topography will be the first thing you need to consider when scouting for a building lot for modular homes. You may plan what the modular home's appearance when facing the street, what part of the house kissed the east, and what landscape you want to place in your front yard. A first time home owner will also think of how much is the cost of a building lot that is accessible to everything.
The best building lot for modular homes can be influenced by the size, shape, slopes, and grading of the land. Existing trees, streams, ponds, stone walls and landscape can also impact your decision making process. The location of the lot and its surrounding environment may interfere your decision.
Questions To Ask About the Building Lot for Modular Homes
Since a property's topography can also play a determining role, here are the following questions to help you find the best building lot for your modular home;
What does it mean to have unambiguous title to a property and how can I protect myself against a title flaw?
Before you purchase the lot ensure that the property does not have any legal flaw. Dig deeper on the history of the lot prior to closing a deal. You may never know how much burden you may when legal matters strike. You can protect yourself from any legal flaw on the property you purchase through a land insurance.
What are deed restrictions and how might they affect my ability to build a modular home on property?
Knowledge on the deed restrictions allows you to determine what are the things you can do with the property or not since in some cases, building lots for modular homes can impact the construction process. There are property where you cannot expand your home on either sides because the other area of the lot is clay.
Who determines whether my property has any "wetlands" and what should I do if it does have?
Often the general contractor of modular homes work with the engineer to determine whether the lot has wetlands. If they determine any appearance, they will discuss with you the building of a strong foundation such as crawl space.
Why should a property be formally surveyed and boundary markers put in place before purchasing it?
These things ensures that the building lot for modular homes is excellent for construction. There are no concerns in terms of the soil noted and it is safe to build a modular home in the property. Boundary markers are placed accordingly to let other people know that the property is owned.
In case you still have question about modular homes, you may contact Legendary Homes Inc in Jackson, Michigan. A representative will be happy to assist you. Meanwhile you can check our modular home price sheets by signing up to our blog
Topic: Modular Homes
---
Modular Home Floor Plan for Senior Citizens
Many senior citizens are opting to build a modular home that years before they retire, they are looking for manufacturers, floor plans and locations. Their willingness to shred time for researching on the modular home floor plan pays off when high quality home and energy efficient is produced.
A floor plan of a modular home for senior citizens is usually attached to the left side of another modular home. This has been the practice since many families are not choosing nursing homes as their elderlies' home. The layout of the modular home is suitable to accommodate the needs of an elderly who needs a level floor, wide hallway and doorways, and accessible bathroom. Moreover the typical location of the bedroom is located at the center of the modular home floor plan to give the seniors a wide ocular view of his surroundings.
Nowadays, many manufacturers are integrating the Universal Design to the floor plan. This design is promoted and utilized to prevent unwanted circumstances to happen. With the Universal Design, seniors are able to do daily tasks comfortably because the modular home they are living in are more manageable and has accessible utilities. Items like handrails to prevent falling, easier to manage locks, handles and latches all make life easier for elderly or mobility-impaired residents in an assisted living environment.
Moreover, a wheelchair ramp is also added in the options provided by manufacturers. This ramp provide an easy access to the entry and exit points of the house without worrying on lifting the senior's arthritic pain.
As a tool for understanding the floor plan for senior citizens, here are some of the examples proposed by seasoned general contractors and the Federal Housing Administration (FHA).
Plan for Kitchen and Bath of a Modular Home for Seniors
In case you still have question about modular homes, you may contact Legendary Homes Inc in Jackson, Michigan. A representative will be happy to assist you. Meanwhile you can check our modular home price sheets by signing up to our blog
Topic: Modular Home
Reviews
---
Todd was full of information and it was great to see a CLEAN home! My husband is glad to hear that u can sub co tract everything out so there is no worry on our end if we choose to go that way. I really enjoyed seeing the pictures of the different styles of homes you have built.
Apr 30, 2013
Jennifer Plank

We first met Todd Rutledge from Legendary Homes of Jackson MI online while we were searching for a new home. After our first conversation with him, we felt that he was honest and trustworthy. These feelings were confirmed by another of his clients who let us see her home and told us of her experiences working with Todd. Todd arranged a visit to the Redman Homes factory for us so we could see for ourselves how they are made and their quality. Todd helped us thru the process of selecting what we wanted in our home. He made himself available to answer our questions thru out this building process. If he didn't know all the answers, he found out and got back with us promptly. We now are the Happy owners of our Redman home and are very thankful to Todd Rutledge of Legendary Homes for his help. Sincerely, Burt and Mary Hooker 5/16/13
May 18, 2013
Burt Hooker

Answered all our questions about modular homes and the building process and had good knowledge, politeness and overall Excellent Representative. Good Job!
May 25, 2013
Richard Walter

---
We are open
Wed and Fri Noon to 5 pm
and Sat 10 am to 5 pm.

Or other times by appointment.
Please call Todd at 517-206-2435
Categories
---
Google+ Profile
---