Easiest Exterior Modifications for a Modular Home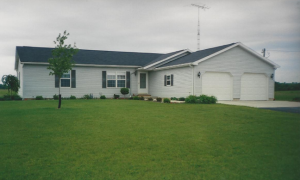 Exterior modifications for a modular home are often the easiest to make since they usually only mean changing a window style or what kind of siding you want on the house. The following is by no means two of modular home customizations that are available in Michigan.
Changing the Roof of a Modular Home
Changing the roof is often the easiest design decision to make for a modular home and is surprisingly inexpensive. Increasing the angle and height of your roof, extending awnings, adding decorative gables or dormers, and changing basic shingles to architectural shingles are all great ways to add more personality to the roof.
Windows of a Modular Home
Next you might decide that the problem is really the windows. What you really want isn't four windows across the top, but rather two larger windows. Depending on the level of customization that your manufacturer is offering, moving or adding windows can come with either a small fee or a hefty hike in manufacturing costs.
Sometimes adding too many windows can threaten the structural integrity of a modular home and so you won't be able to add more at any cost. So you've been informed that changing the four smaller windows to two large windows is within your budget. You now have to decide the material, the trim, the style of window, what kind of glass you want, and a whole bunch of other options.
Even now that you have the perfect windows, you still feel like something's missing. A very popular addition is adding a front porch with either a gable or a full roof over it. This gives the house a more welcoming and three-dimensional feel, but be careful that you're not building too close to the street for town regulations.
In case you still have questions about modular homes, you may contact Legendary Homes Inc in Jackson, Michigan. A representative will be happy to assist you. Meanwhile, you can check our modular home price sheets by signing up to our blog.
Topic: Modular Home Customization