Modular Home Floor Plans & Options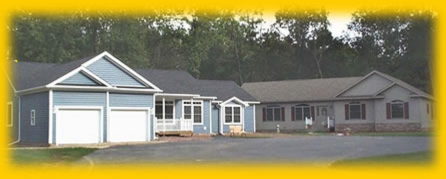 are available in many different styles, sizes and functions to meet your every day living needs.  Types of floor plans offered are in ranch, cape cods and two story homes.
"One Call Does it ALL!"  Legendary Homes can do the complete "turn key" package.
When choosing Legendary Homes you have three options:
1.  Select a plan from our many standard home plans.
2.  To customize a standard modular home floor plan and just make some changes.
3.  Do a complete custom design floor plan that is uniquely your own.
Standard Modular Home Floor Plans
With our friendly and knowledgeable staff we will assist you in choosing the floor plan and style you are looking for to meet your wants and needs.  We can help in the areas of number of rooms and sizes you are looking for.  Also with the different upgrades and features you would prefer.  From the information given we will help direct you towards a floor plan that will meet your needs and spark your imagination.
We have many standard modular and HUD code floor plans available that consist of a variety of styles including:  Ranch, Cape Cods and Two Story.
We offer many options, so choosing a standard floor plan does not mean you are with out options.  Among some options are appliance packages, master bathroom options, full basements, garages, porches and many other additional features.
Customizing a Standard Modular Home Floor Plan
When you team with Legendary Homes, "we can make your dreams a reality".  If you choose a standard modular home plan and want to customize the kitchen or bathroom or make the rooms bigger our design team can help you with that.  We will work with you to ensure you have years of enjoyment of your new home.  We have years of experience and expertise to help with your decisions in all aspects of the building project.
Complete Custom Design Modular Home Floor Plans
What ever your pick on floor plans Legendary Homes will help in suggestions of designs and features you may want in your floor plan.  We allow you many options to uniquely customize the exterior and interior of your new home.  Exterior options include porches, decks, walk outs, and much more.  Interior options include countertops, appliances, flooring, cabinetry, tubs and showers, as well as vanity tops and carpeting and trim.
Experience Makes the Difference
At Legendary Homes we have the knowledge and experience to help guide you through the entire process of your new modular home.  Select from any of our standard modular floorplans or you can customize to your wants and needs.  You won't be disappointed with the results we can give.
No mater what kind of Modular Home Floor Plans you are looking for, we can help!
Legendary Homes

Proudly Services the Following Communities
Addison MI




Adrian MI




Allen MI




Amboy Center MI




Austin MI




Ann Arbor MI




Bankers MI




Blissfield MI




Britton MI




Brooklyn MI




Camden MI




Canton MI




Cement City MI




Clayton MI




Clinton MI




Coldwater MI




Columbia MI  

Concord MI




Divils Lake MI




Deerfield MI




Dundee MI




East Lansing MI




Eaton Rapids MI




Frontier MI




Grass Lake MI




Hanover MI




Hillsdale MI




Horton MI




Hudson MI




Jackson MI




Jerome MI




Jonesville MI




Lansing MI




Leoni MI

Liberty MI




Litchfield MI




Manitou Beach MI




Michigan  Center MI




Morenci MI




Montgomery MI




Moscow MI




Mosherville MI




Munith MI




Napoleon MI




North  Adams MI




Norvell MI




Onsted MI




Osseo MI




Parma MI




Pleasant Lake MI




Pittsford MI

Quincy MI




Reading MI




Rives Junction MI




Sand Creek MI




Somerset MI




Somerset Center  MI




Spring Arbor MI




Springport MI




Tecumseh MI




Tekonsha MI




Three Rivers MI




Tipton MI




Vandercook Lake MI




Waldron MI

 

 
Legendary Homes Proudly Services the Following Counties To Name a Few
Michigan, Ohio and Indiana

Legendary Homes Proudly Services the Following Zip Codes
49234




49233




49203




49282




49261




49249




49281




49246




49254




49230




49204

49257




49201




49220




49263




49202




49283




49253




49241




49262




49265




49250

 49237




49240




49258




49287




49269




49272




49259




48158




49277




49247




49271

49235




49252




49236




49242




48118




49221




49266




49245




49227




49251




49264

48115




49224




49284




49286




49285




49256




49274




49239




49288




49279




49289

48103




49229




48130




48176




49268




48137




48819




49232




49082
Legendary Homes Inc
10197 S Meridian Rd
Clarklake, Mi 49234
(517)206-2435