Insulated Precast Foundation For Crawl Space
Legendary Homes has been offering insulated precast foundations for basements for some time now but have not offered as a crawl space until recently.  With the new 6 foot panels, this allows us to now offer insulated precast foundations for crawls as well.  This is a very Energy Efficient foundation.
For crawl spaces not having a poured floor, they will need to have 1 foot of backfill in the inside.  This holds the bottom of the walls from pushing in when back filled.  This still leaves a 5′ crawl under the house.
[youtube_sc url="http://youtu.be/Jq1ysEmjEYw" title="Energy%20Efficiency%20Insulated%20Precast%20Foundations%20″ autoplay="1″]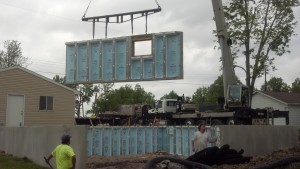 When looking for energy efficient foundations, give Legendary Homes a call.  For more information about our homes and prices click here! or Call Todd at 517-206-2435
Legendary Homes Inc
10197 S Meridian Rd
Clarklake MI 49234
http://legendaryhomesinc.com