An Excellent General Contractor in Michigan to Build a Modular Home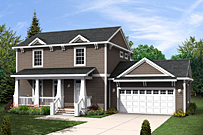 A general contractor is a person assigned to monitor overall work in the whole duration of the construction process. He has a responsibility to monitor the progress of every task and to check and answer any issues concerning the building process. But why do we need to hire only the best general contractor in town?
Here are some of the reasons that hiring an excellent general contractor in Michigan is a wise move:
A General Contractor Revolutionizes Modular Home Building Process
There are numerous reasons why most home buyers employ an excellent general contractor to construct a modular home. One of which is because he and his team have revolutionized the building process of modular homes to give utmost living comfort to home owners. They have incorporated both traditional and advanced technologies. Some general contractors have not fully embraced the new strategies of modular housing, but they have been integrating these strategies slowly. The combination of old and new strategies has been found to be reliable in building a high performance modular home.
A General Contractor Is Organize
Most general contractors have the best organizational skill. They are meticulous in how their work must go through. They follow a scheme so every phase in the building process is done appropriately and with no mistakes. When hiring a general contractor, it is better to look at the number or impact of delays they encountered in their previous works. An effective and organize general contractor has lesser to no delays when it comes to modular construction.
A General Contractor is Transparent and Trustworthy
Important characteristics of an excellent general contractor are being transparent and trustworthy. He is fair in the presentation of floor plans and modular home prices. He put transparency on how much had been done with the modular home and what needs to be done. If there are glitches during the modular construction process, it is his job to inform the home buyer for details. When he has been transparent and honest even before the start of the construction process, you are confident that he is trustworthy. You can leave a trust that he can complete your modular home.
In case you still have questions about modular homes, you may contact Legendary Homes Inc in Jackson, Michigan. A representative will be happy to assist you. Meanwhile, you can check our modular home price sheets by signing up to our blog.
Topic: Modular Home's General Contractor