Warning!!! Commodity inflation is Upon Us!
We received this letter below today.  I wanted to get this out to you ASAP.  If you are close to building, the best bet is to get your home ordered SOON.  See letter below.
April 18, 2017
Dear Valued Customers,
Warning!!! Commodity inflation (especially in the forest products market) is upon us. We have been experiencing inflation over the last couple of months with most weeks showing increases in forest products, and with some in the double digit category. Obviously, wood is our highest use component in the houses you buy — increases in housing demand, pending tariffs, and speculative issues in the lumber mills have all helped to create this inflationary pressure.
[wp-stealth-ads rows="1"]
In February, lumber and OSB prices increased approximately 10% from January 2017 levels to account for an upcoming tariff on Canadian lumber. Just last week we heard about one large Canadian mill that announced another 30% price increase, while other mills on both sides of the border went off market. The tariff ruling is supposed to be finalized on April 24th, but we may not know the full impact of that ruling until the days following that ruling as the market sorts out the facts from the speculation.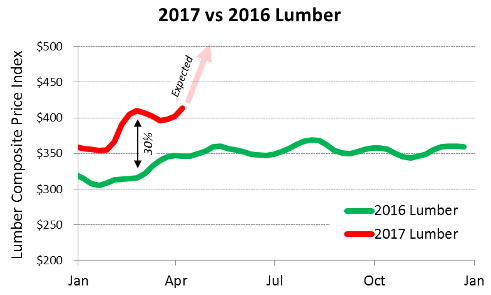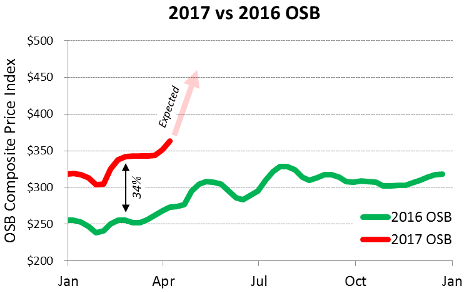 Why are we sending you this letter? It's simple really — our surcharge increase that went into effect on March 3, 2017, at this point in time doesn't cover our increased costs for raw material. While we are willing to wait until we see the impacts from the upcoming tariff ruling, we will send out our next surcharge adjustment shortly thereafter, and we will not be able to allow for much, if any, notice on that adjustment. Please adjust your pricing with your customers and build this into your current quotes. Other commodities are also increasing (drywall up 6%, insulation heading up roughly 5%, steel heading up, etc.) forcing us to pass them on at any time. The bottom line is you should expect 2% to 4% price increases due to material inflation in the coming weeks.
Please be assured that Champion is doing everything possible to mitigate increases with respect to "non-value added cost" elimination, supply negotiation and purchasing strategies. We continually focus on these aspects of our business, but these actions will not offset the magnitude of materials inflation we are both experiencing now and anticipate in the coming weeks. Questions or concerns? Please call us.
Jay Ciokajlo
General Manager
Champion Home Builders, Inc. – Topeka Operations
Call Todd Rutledge at Legendary Homes now 517-206-2435 to get your home ordered.  There's still time to beat the price increases coming up.